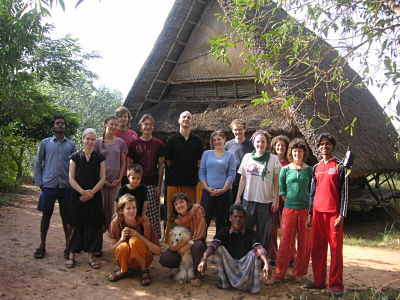 A WWOOFer's team, two local indians, volunteers from Austria, Israel, Australia, Swiss, Sweden, America, Portugal, Germany,...
About India
India is a major international tourist destination known for its rich cultural heritage, diverse customs and religions, varied topography, delicious cuisine and hospitable people. The tourist map of India gives detailed information on all the major tourist destinations, cities and states in the country. All the major tourist destinations have been sorted into groups such as monuments and pilgrimage centers like Haridwar, Agra, Jaipur, Delhi, Ajanta, Ellora, Lucknow and Tirupati, wildlife sanctuaries and national parks such as Corbett, Sariska, Gir and Kanha, hill resorts including Ladakh, Shimla, Mount Abu, Darjeeling, Kodaikanal and Manali and beaches like Port Blair, Mumbai, Goa, Digha and Kavaratti
Organic agriculture in India
As per a Food and Agriculture Organisation (FAO) study mid-2003, India had 1,426 certified organic farms producing approximately 14,000 tons of organic food/ produce annually. In 2005, as per Govt. of India figures, approximately 190,000 acres (77,000 hectares) were under organic cultivation total production of organic food in India as per the same reference was 120,000 tons annually, though this largely included certified forest collections.
What is WWOOF?
WWOOF provides a way for volunteers (WWOOFers) to learn about organic food, farming, and ways of life. In doing so it brings together people to share common human values and thinking. WWOOF also hopes to provide helping hands to its organic WWOOF hosts and allow WWOOFers to understand what it means to live organically. WWOOF is an exchange programme- volunteer help in exchange for food, accommodation and learning.
The Aims of WWOOF are:

To give first hand experience of organic or other ecologically-sound growing methods
To give experience of life in the countryside
To help the organic movement which is labour intensive and does not rely on artificial fertilisers, herbicides or pesticides
To give people a chance to meet, talk, learn and exchange views with others in the organic movement
To provide an opportunity to learn about life in the host country by living, and working together
History of WWOOF in India
WWOOF India has been growing steadily in India. From just a few hosts in the starting now it has more than 150 Hosts including many NGOs , in coming years we hope to see more and more people becoming involved in this unique concept of Eco-activism.